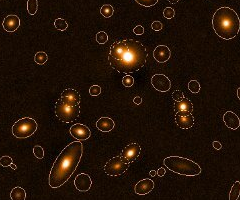 SExtractor is a program that builds a catalogue of objects from an astronomical image. Although it is particularly oriented towards reduction of large scale galaxy-survey data, it can perform reasonably well on moderately crowded star fields. Author: Emmanuel Bertin
---
What's new?
---
Code
---
Documentation
The "official" SExtractor documentation is unfortunately still far from complete; you might want to check out the excellent manual by B.Holwerda: SExtractor for dummies.
---
Acknowledging SExtractor
Bertin, E. & Arnouts, S. 1996: SExtractor: Software for source extraction, Astronomy & Astrophysics Supplement 317, 393 [PDF] [BibTeX entry].