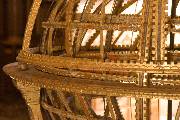 SCAMP reads SExtractor catalogs and computes astrometric and photometric solutions for any arbitrary sequence of FITS images in a completely automatic way.

Author: Emmanuel Bertin
---
What's new?
---
Code
---
Documentation
The SCAMP documentation is still incomplete (the photometric part is missing) but is reasonably up-to-date.
---
Acknowledging SCAMP
Bertin 2006: Automatic Astrometric and Photometric Calibration with SCAMP, ASP Conference Series, Vol. 351, 2006, C. Gabriel, C. Arviset, D. Ponz, and E. Solano, eds., p. 112 [PDF] [BibTeX entry].
If you are using the built-in access to astrometric catalogs for your research work, please add the following acknowledgement text: "This research has made use of the VizieR catalogue access tool, CDS, Strasbourg, France".
Thanks!